In this month's edition of our recurring series – Ask Creators Anything – let's take a peek at Possum Creek's newest game: Yazeba's Bed and Breakfast, a slice-of-life legacy tabletop roleplaying game (TTRPG) about a found family and their magical home. Yazeba's Bed and Breakfast is Possum Creek's follow up to their breakout hit, Wanderhome, a tabletop roleplaying game set in the world of Hæth, which is presented in a style that's parsimoniously poetic, immensely imaginative, idyllic, and inclusive. Indiegogo's Stacy Bradford sits down with Possum Creek's Co-Founder and Art Director Ruby Levin to discuss all things Possum Creek and YBB via Discord. Check out their chat below.
Stacy Bradford, Indiegogo: Hey Ruby!
Ruby Levin, Possum Creek: Hey Stacy! Great seeing you again!
IGG: Same to you! Hey, I was thinking about this earlier, and gotta ask – there's been a lot of talk lately about daylight savings time – what time is it right now in Hæth?
Possum Creek: Excellent question! While I don't want to spoil the surprise if the world is on Greenwich Mean Time or not, but I can tell you that it's Hæth past the hour.
IGG: Ha! Alright, we have a lot to get to today – so let's get into it. I hope I don't gush too hard; I'm quite enamored by Possum Creek. Can you tell me a little about your founding story?
Possum Creek: Possum Creek is a small indie tabletop roleplaying game publishing company based in the Hudson Valley. When I say small, I do mean it's just me and Jay Dragon, our Editorial Director, and we're just friends who met at a summer camp in the Catskills.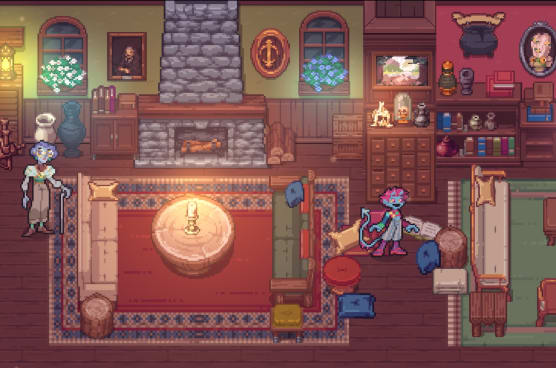 IGG: Let me stop you right there. I didn't know you went to the same summer camp with Jay. I was chatting with Jay in our Instagram Live, and Jay mentioned summoning ghosts. What are your necromancy skills like?
Possum Creek: Good enough that I can summon a conductor to keep this train on the tracks. So Possum Creek was founded originally as a vehicle to publish our debut title, Sleepaway (go on, make the connection) and then ramped up into a full business with the explosive success of Wanderhome in 2020. Since then, we've published several other games by friends and visionaries in the indie tabletop scene, and we plan to continue making and publishing beautiful, strange, queer games as long as we can.
IGG: That's fantastic. I love that. Is that how you'd describe Possum Creek's mission?
Possum Creek: All the time we jokingly say that we makes games for people who don't like games (me, for one)—games that play out a little differently than people might be used to, in ways that are more friendly to, obviously, queer and marginalized people, but also young people or sleepy people or or long distance friend groups or people who don't do math.
IGG: Could you do me a favor and quantify the number of people who can't do math?
Possum Creek: My math skills put me up Possum Creek without a paddle. But! I can tell you we also focus on making physically beautiful books and objects, and supporting other creators who think the way we do, be it via advice, community building, equitable pay and contracts for our freelancers, or even small creative loans.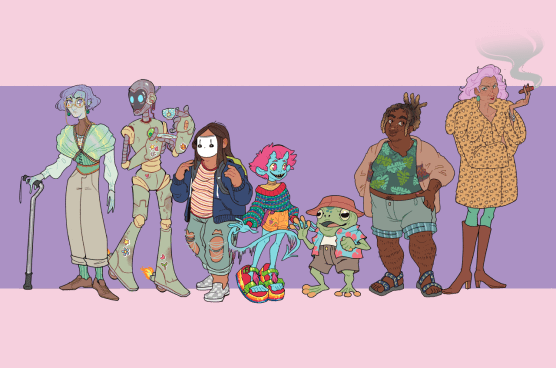 IGG: Yeah, tell me more about that. I know you all created the Hæth Grant. Tell me more about that.
Possum Creek: I'd love to! So the Hæth Grant is a program wherein other creators can apply for a grant of up to $500 to make creative work via an extended version of the third party license for any of our games. And the best part is creators own the rights and sales to anything they create; and last year we gave out over $20,000 in funds for creators to make things like soundtracks, original Wanderhome playbooks, apps, and even Wanderhome-themed wine!
IGG: I'm blanc-ing on a good segue, but let's pivot slightly. Tell me about Yazeba's Bed and Breakfast! 
Possum Creek: Finally! Ha. So Yazeba's is a slice-of-life story game. Every session is quick to set up and play, using simple but bespoke rules using a deck of cards or assorted tokens to do things like clean the house, go trick or treating, or attend a ball. At the end of every session of this tabletop roleplaying game, the choices you made during play will unlock new stickers, rules, advancements for your characters, and guests for the BNB, making each copy of the game a unique personalized experience.
IGG: I love that each copy of the game is a unique experience. It's that replayability that keeps people coming back. Well, that and a good plot. Tell me a little about the plot of the game.
Possum Creek: The story starts when one stormy night our heroine, Gertrude, a trans teen runaway, discovers Yazeba's Bed & Breakfast and moves into the laundry room. We follow her, the other permanent staff and residents of the BNB, and 50 assorted guests through their strange and charming day-to-day lives.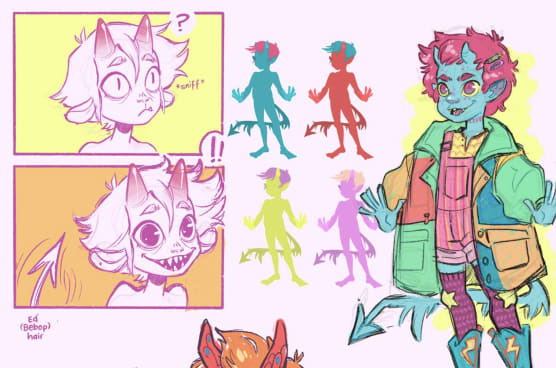 IGG: That sounds so fun! Could you tell me about the characters in the game? Also, gotta ask – is Parish a great character or the greatest character?!?!
Possum Creek: They're all great, Stacy! So Gertrude is shy and sweet but learning to be more herself (or more Yazeba, if she can manage it.) Yazeba is a grumpy, heartless chain-smoking witch with untold power who hates you, probably. Sal is her former apprentice, now Night Porter at the BNB, the cool uncle of the group and an incredible musician. Parish, the Chef of the house, used to be a valiant and chivalrous knight but was cursed to be a frog, and he's dealing with it in his own way. Hey Kid is a little demon child in every sense of the phrase. Amelie is our robot housekeeper, tireless and selfless in every way, as their programming demands…unless?
IGG: Unless?
Possum Creek: …
IGG: That's super ominous, and I gotta say – I'm a little scared. Ha, I'm kidding. Your games are too delightful to be scary. That's part of the reason why I like them so much – as I'm going to let you in on a secret – I was born a coward. That's why I can't do horror. Haha. But speaking of things I love about Possum Creek – I love the artwork in the game. What went into it?
Possum Creek: Yazeba's actually has a difficult aesthetic to nail down. We want to evoke nostalgia for children's books and Saturday morning cartoons and obsessive fanfiction all at once, and those things all look quite different. Mainly we prioritize a sense of color, fun, and diversity of representation. The most common art direction I give out is to stay within a kind of iridescent-sunset color palette, or to give a character a sillier expression and a gayer haircut.
IGG: With direction like that, now I get why there's a similar throughline in terms of your games that continues into the online version of YBB. What was it like working with One Multiverse Media?
Possum Creek: Working with OMM has been so great, they truly understand what we're trying to do with the game and have brought so many good ideas to the digital version of YBB. Even after working on this game for years there are few delights as pure as digital Parish actually hopping around the kitchen making a stew, or setting up a rainy mood with lighting and effects, or even the huge absurdist fried egg tokens on the edge of gameplay. OMM is also planning some really exciting stuff with players being able to really design their own gameplay and chapters, and adding some guests that can do things exclusive to the digital version!
IGG: That's so cool! You all have a podcast as well. How's that going?
Possum Creek: Good! All the episodes have aired and are available wherever you etc etc 😉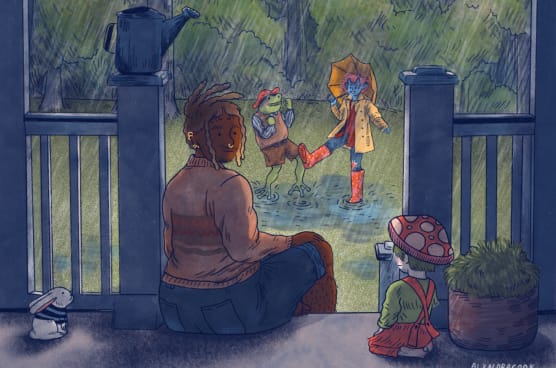 IGG: Now I know we're a little over time here, so let's start wrapping up. When do you expect to ship YBB?
Possum Creek: August 2023—we're giving ourselves a really long lead time because supply chain, labor issues, pandemic, large team, trying to prioritize wellbeing. So I'm absolutely not in any way saying it could drop before then.
IGG: Look at you managing expectations there! Can you manage backers expectations around any sustainability aspects to the game?
Possum Creek: We're printing YBB and its game components with Panda Games; and together we are committed to using soy-based inks and water-based varnishes on recycled waste paper and plastic as much as possible. In fact, 30% of the games' cardboard components are recycled and that number is 100% for shipping cartons.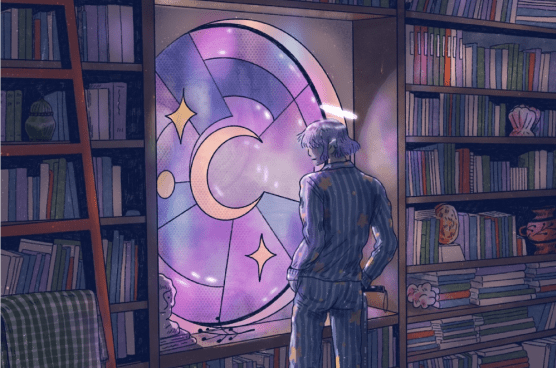 IGG: I thought you said you weren't good at math! Haha I love that though, as sustainability is super important to me and Indiegogo has been called the industry leader in sustainability. And on that note – where can we find all things Possum Creek on social media?
Possum Creek: We're mostly active on twitter! You can follow @possum_creek, @rubylavin, or @jdragsky for every little bit of info. We're also on Instagram and Facebook as @possumcreekgames. Also, please join the Possum Creek Campsite on Discord.
IGG: Highly encourage everyone who will be reading this once it's posted to follow the above. You and Jay really do have great Twitter accounts, and I love reading what you're both up to. That said – in closing – any advice for creators looking to get into tabletop roleplaying game?
Possum Creek: Make friends and then work with them! Make things you truly like and believe in that only you could make, a philosophy I sometimes refer to as "going full crazy."
IGG: This has been so much fun. Thank you for your time today today, Ruby!
Possum Creek: Right back at you! I Hæth a great time.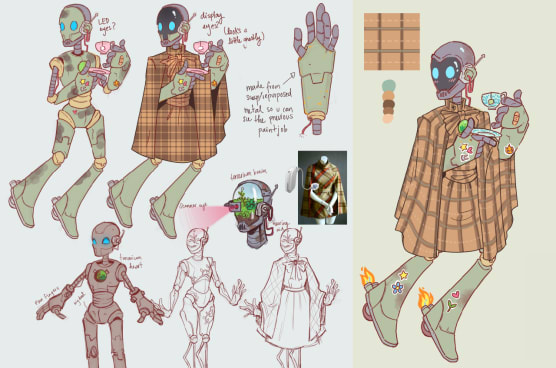 Stacy is Senior Hardware Manager at Indiegogo, and he's assisted bootstrapped entrepreneurs and Fortune 500 companies alike in raising over $30M on Indiegogo. He's also a co-host of Go Time, the official Indiegogo podcast.

Are you thinking about launching a tabletop game on Indiegogo? Email Stacy Bradford if you have any questions or just want to chat about necromancy.