This is a guest post from SIRUI, creator of 50mm T2.9 1.6x Full-Frame Anamorphic Lens.
Everyone can be a content creator these days, but shooting a film and making it stand out is not that easy. (Indiegogo editor's note: Unless you're Denis Villenueve, Chloe Zhao, Barry Jenkins, or Christopher Nolan. And if you are…wow, hello, we're big fans.)
Whether you want to wow your Instagram followers, engage with your YouTube subscribers, go viral on TikTok, or pitch a shoot to potential clients — creating masterful videos that will capture your audience's attentions (and hearts!) is challenging. In this article, we at SIRUI are going to share our favorite creator-sourced secrets and tips to help you think out of the box and create videos that will leave a lasting impression on your viewers.
Read on, and pass this along to the photographers, filmmakers, and content creators in your life!
When shooting in wide aspect ratio, don't crop the top and bottom of an image.
The 16:9 and 3:2 aspect ratios are a thing of the past when it comes to creating a stunning visual experience for the modern day viewer. With richer information, 2.4:1 and 2.8:1 wide-screen aspect ratios have gradually become more popular. One helpful tip to remember when shooting in this aspect ratio: Never crop the top and bottom of an image to get a wide-screen aspect ratio. This may result in poor image quality and composition.

2. Add more allure to your footage by capturing them in beautiful oval bokeh.
Anamorphic lenses are capable of stretching the background vertically without changing the foreground, thereby increasing the horizontal field of view. Oval bokeh produced by the anamorphic lens lends an added allure to your footage.
3. Experiment with vibrant lens flares.
You've probably already spotted highly-stylized blue lens flares at the light source in Hollywood blockbuster films. Experimenting and playing around with vibrant lens flares can add a refreshing quality to your videos and impress your viewers.
4. Consider an anamorphic lens with intuitive design.
When you're considering lenses to add to your gear bag or studio, consider a compact and lightweight anamorphic lens with cine lens housing — one with a solid barrel, geared rings and 1/4'' screw hole. A good lens is going to help you achieve more with less!
True, it takes years of practice, experience, and a good steady eye for composition and editing to become a master at photography and filmmaking. But a lot can also be said about investing in the right camera gear for your content creation and filming needs.
Why do you need an anamorphic lens?
With an anamorphic lens, you can put the tips we've shared learned into practice, honing your skills, and capturing your everyday life in a truly unique and distinct way.
The budget anamorphic lens we at SIRUI have developed has been the lenses of choice for many photographers, filmmakers, and creators.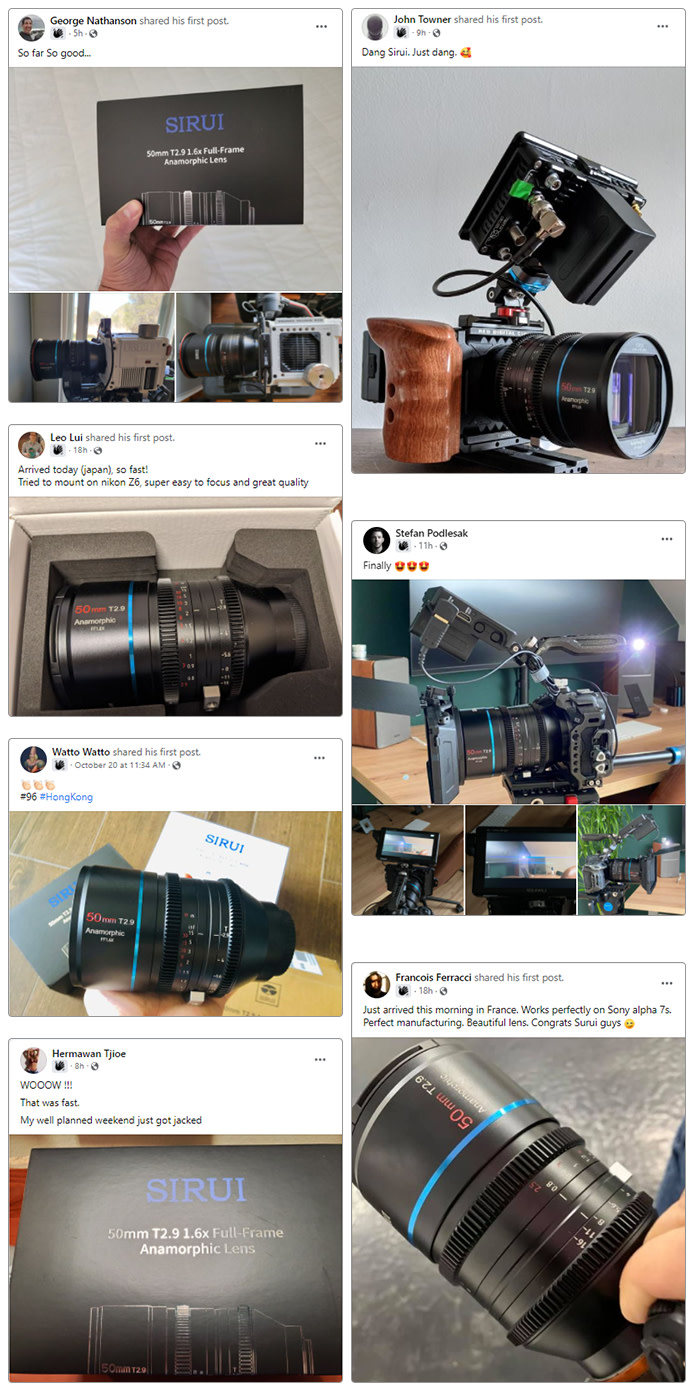 Many of the reviews have called out to its optical performance, making creators feel more in control of their work while shooting.
With our newly-released 50mm T2.9 1.6x FF anamorphic lens, we're offering it at a competitive price through our crowdfunding campaign. Show your support, and back our campaign now to make SIRUI 50mm T2.9 1.6x Full-Frame Anamorphic Lens happen!