Happy Pride Month! This June we're excited to feature Under the Umbrella, an Indiegogo campaign to bring a queer bookstore to Salt Lake City, Utah.
Salt Lake City is one of the ten queerest cities in America, but the city is lacking in safe spaces for queer people of all ages. Kaitlyn Mahoney, the owner and founder of Under the Umbrella, is opening their bookstore to give queer youth a space where they can feel safe and validated. According to the 2019 GLSEN School Climate Study, only 16% of LGBTQ+ students in Utah were taught positive representations of LGBTQ people, history, or events. The LGBTQ+ community deserves to have its stories told, shared, celebrated, and loved. And that is exactly what Under the Umbrella, a queer little bookstore, will do.
Over the last 14 years, Kaitlyn has actively been involved in the bookseller industry in Utah: they are a member of the American Booksellers Association and the Mountain and Plains Independent Booksellers Association, as well as the Utah LGBTQ+ Chamber of Commerce, National LGBTQ Chamber of Commerce, and the Salt Lake Chamber of Commerce.
Their incredible crowdfunding campaign has raised over $55,000 to bring a queer bookstore to Salt Lake City, Utah and to highlight stories by and about people who have traditionally been excluded from publishing and mainstream media. You can still contribute to the InDemand campaign and get a ton of great perks for donating.
Stay tuned for Kaitlyn's book recommendations and read a Q+A about her work as a bookseller.
5 LGBTQ+ Book Recommendations For A Good Summer Read
With her newly completed PhD in astronomy in hand, twenty-eight-year-old Grace Porter goes on a girls' trip to Vegas to celebrate. She's a straight A, work-through-the-summer certified high achiever. She is not the kind of person who goes to Vegas and gets drunkenly married to a woman whose name she doesn't know…until she does exactly that. When reality comes crashing in, Grace must face what she's been running from all along—the fears that make us human, the family scars that need to heal and the longing for connection, especially when navigating the messiness of adulthood.
This new young adult anthology edited by Joshua Whitehead (Lambda Literary Award winner, Jonny Appleseed) features short stories by Indigenous authors with Two-Spirit & Queer heroes, in utopian and dystopian settings. This is a sequel to the popular anthology Love Beyond Body Space and Time (2019 AILA Youth Honor Book), and features several of the same authors returning, along with new voices!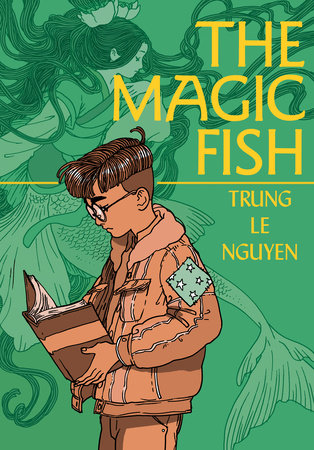 It's hard enough trying to communicate with your parents as a kid, but for Tiến, he doesn't even have the right words because his parents are struggling with their English. Is there a Vietnamese word for what he's going through? Is there a way to tell them he's gay? A beautifully illustrated story by Trung Le Nguyen that follows a young boy as he tries to navigate life through fairytales.
Queer Love In Color is a singular, moving collection of photographs and stories of queer couples and families of color from across the United States and around the world. Inclusive of all gender identities, races, and ages, this beautifully packaged book offers an intimate look at what it means to live at the intersections of queer and POC identities today, and broadens how we see affection, love, and family.
In 1977 Uruguay, a military government crushed political dissent with ruthless force. In this environment, where the everyday rights of people are under attack, homosexuality is a dangerous transgression to be punished. And yet Romina, Flaca, Anita "La Venus," Paz, and Malena–five cantoras, women who "sing"–somehow, miraculously, find one another. Together, they discover an isolated, nearly uninhabited cape, Cabo Polonio, which they claim as their secret sanctuary.
Exclusive interview with Kaitlyn Mahoney
Now that you've gotten their book recommendations, learn more about Kaitlyn in our exclusive Q&A with them below!
INDIEGOGO: Why and how did you become an entrepreneur? Was owning a bookstore something you always intended for yourself?
KAITLYN: It definitely feels like my whole life has been leading me up to this point. I've always been an avid reader, and books were a big part of how I discovered — and continue to discover! — my own queerness. Representation makes a huge difference not only for those being represented, but for those being exposed to diversity as well. According to GayPages.com, 79% of non-LGBTQ people exposed to queer people in the media are more comfortable having a new queer family with children move into their neighborhood, and 45% were more accepting of bisexual people.
As I started reading more queer narratives, I realized how difficult it could be to find them in traditional bookstores. And I knew that if it was difficult for someone like me who is specifically seeking them out, it must be even less likely that others are going to find them. Queer books had a huge impact on my life, and that's what ultimately led me to creating Under the Umbrella.
Owning a bookstore is a business, of course, and I take that very seriously–but I don't really consider myself an entrepreneur. I'm a community member who noticed a need and had the resources to help fill it!
INDIEGOGO: What makes your Indiegogo project unique?
KAITLYN: Every Indiegogo project is a community effort, but there's something about a community effort to create a community space that feels very poignant. More than 460 people donated to help make Under the Umbrella a possibility, and the majority of them were donating at the $15-$50 perk level or forgoing the perks completely. These are individuals who really see the need for this space and want to be part of making it happen.
INDIEGOGO: What have you learned about your community during your crowdfunding campaign?
KAITLYN: So many people reached out to express how much a space like this would have meant to them when they were younger and how excited they are to see it become a space now. Strangers have donated their favorite queer books, sent me lists of books to stock in the store, given financial and other material support, and have offered to help set up the bookstore or otherwise volunteer to make sure the space succeeds. There were also a lot of people who did their own crowdfunding outside of the Indiegogo to gather even more support for the store. Under the Umbrella is absolutely a community effort to create and curate a safe space together.
Want to support the campaign for Under the Umbrella bookstore? Check out the campaign page today! Perks include signed books by Sarah Gailey, Maria Mora, Shaun Hutchinson, as well as advance reader copies of new releases and more.

Support the campaign for Under the Umbrella here.