March might come in like a lion and go out like a lamb, but it's also a month that will kick off a lot of incredible new crowdfunding campaigns. Below you'll find a round up of some of the new and exciting campaigns launching on Indiegogo in March 2022. From tabletop games to ice cream makers to packable kayaks, March 2022's crowdfunding campaigns promise something for everyone. Each of the links below will allow you to explore a campaign's Pre-Launch Page and enter your email address to get early bird specials. And when the campaigns officially launch, the links below will redirect you to campaign pages that will allow you to officially contribute.
Friendly disclaimer: These products are in various stages of development, so you'll have to be patient about receiving them. Crowdfunding isn't shopping, and it can sometimes take months to receive a perk from a campaign you've backed.
Let's check out what March 2022 has in store for you!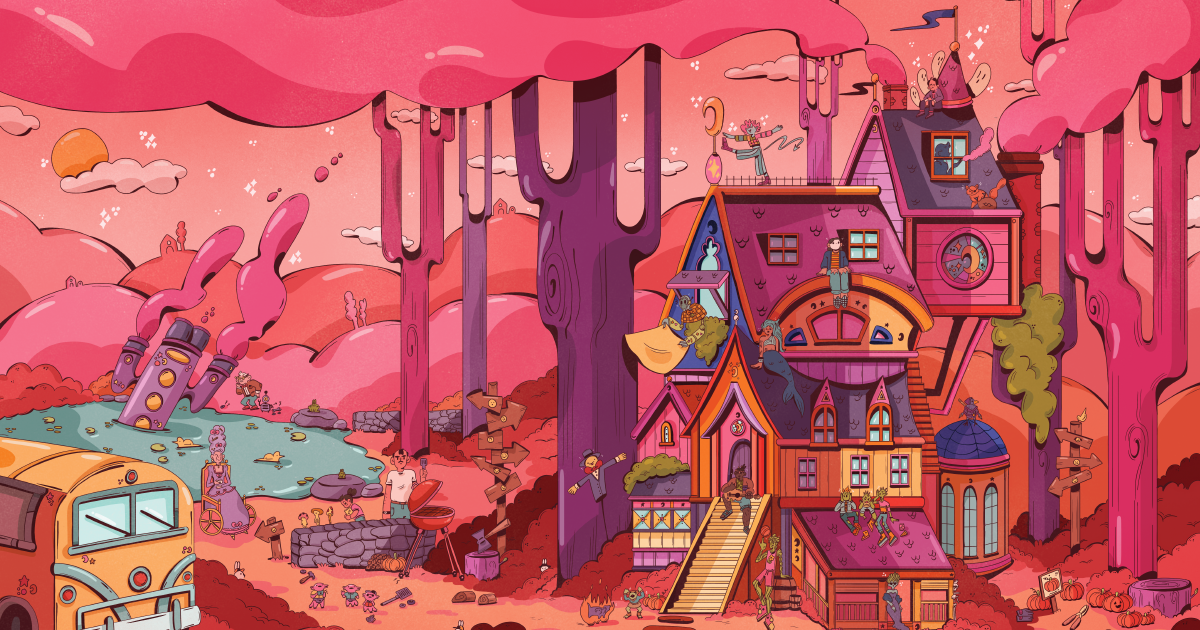 While it's hard to say whether there's any one particular day that's best for running away from home, if forced to choose, one would probably say the 15th of September would be as good a day as any. In the rainy damp woods, full of rainy damp thoughts, the girl wove past a broken-down wooden gate in an old stone wall towards the house beyond them. A little bell chimed as she stepped inside, boots stomping against the small welcome mat.
Welcome to Yazeba's Bed & Breakfast, a slice-of-life tabletop RPG from Possum Creek Games about a heartless witch, a peaceful house, and all the folks who have made their home inside. Yazeba's Bed & Breakfast is a very special game. It uses pre-set characters, quick-play chapters, and an adaptable ruleset unlike anything else out there. It takes less than a half hour to learn how to play and get started, but with new chapters and secrets to unlock folks can stick with the game for years and years.
Read my (burnt) lips: No more waiting for hot drinks to cool down. Kølingsip™ is a portable coffee cup with a lid that instantly cools beverages. Thanks to the lids patented cooling ridges, your mouth is completely safe from burns or scalds. With Kølingsip™, you can drink your hot beverage immediately. Kølingsip™ was born from the brilliant mind of Dr. Stig Peitersen, a Board Certified neurosurgeon, chemical engineer, avid tinkerer, and inventor. He also loved a good cup of coffee! So, with the perfect cup of joe in mind, his ingenious idea, a "cooling lid" invention, was patented in 2004. Kølingsip™ is fully reusable and eco-friendly. When you take it to a coffee shop, you'll be cutting back on how much waste you produce. Disposable coffee cups aren't recyclable and contribute to a large volume of landfill waste. Kølingsip™ is good for your mouth and good for the planet. We'll drink to that.
SNAP-G is your vlog buddy. With SNAP-G, you can create memories and share them live easily. This smart three-axis gimbal camera from Thinkware comes with built-in wifi & live streaming that makes it perfect for instantly sharing with friends and followers. And unlike other gimbal cameras, you don't have to squint your eyes to see what you're recording. You can now capture with accuracy with SNAP-G's pioneering two-inch LCD screen. Plus, thanks to a replaceable battery, you never have to worry about losing power. If the battery runs out on your SNAP-G, no sweat! Just replace the battery with a new one. In the meantime, you can recharge the spare battery, so you never run out of charge!
Get premium ice cream at home. If you're anything like the creator of Tern, you've bought half a dozen different ice cream makers to try to recreate the smooth texture that you'd expect from an ice cream shop. After dozens of design iterations and hundreds of hours of testing, the ice cream aficionados behind Tern found a solution that churned smooth, premium ice cream. The secret ingredient is speed: Faster freezing makes a smoother finished texture—and gives you endless options for making new recipes and trying creative ideas. Tern also allows you to make healthier recipes for ice cream and sorbet while still creating a smooth dense treat with rich consistency and superior flavor.
This is the lightest kayak that you're likely to find on the market. Portable folding and inflatable kayaks have been around for a while, but they're still stuck at 20-45 lbs depending on the boat. Pontos takes a whole new approach to deliver a seven-pound kayak that packs down to the size of a small tent. Pontos was created to make getting outdoors more equitable. They believe the physical and mental benefits that come with connecting with nature should be available to everyone. There are traditionally a lot of barriers to taking up paddle sports, like having to have space to store a vessel, needing a roof rack, pickup, or trailer to transport it, and being able to carry often quite a bit of weight to and from the water. The Pontos Packable Kayak changes that. And it's rugged enough to take you wherever you want: The frame is light and sturdy, while the waterproof, tear-, puncture-, and abrasion- resistant TPU Nylon shell redefines what you can expect from a high-performance fabric.
Want to explore more great campaigns? Check out these staff favorites from Indiegogo.